Discover Molokini —- Snorkel & Sail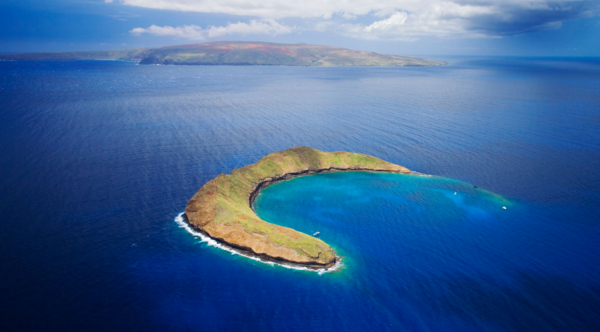 Join Maui's #1 sailing company as you embark on this "must-do" Maui adventure to Molokini Crater! Board our spacious 54' sloop-rigged sailing catamaran with ample room for lounging and unobstructed views of Kaho'olawe and Lana'i. Wake up with Maui's warm sunshine, a light breeze and Mom Coon's fresh baked cinnamon rolls! Our first snorkel stop is to the iconic Molokini Crater, followed by a 2nd stop, usually to Turtle Town*. Post snorkeling, our crew will serve you a hot "all you can eat" BBQ lunch. With tummies full, lay back and relax as we sail our way back to port. With a drink in hand and the wind on your face, it's just another perfect day in paradise.
NOTE: Occasionally due to unusual weather conditions, snorkeling can be undesirable at Molokini Crater or the South Maui Coast Line. On these days, the Captain will choose the best alternate snorkel location(s).
Register for Discover Molokini Snorkel Sail
Tour Date: Monday, October 28, 2019
Rate: $163.00 per person (includes gratuity)
Ma'alaea Captain Sunset Dinner Sail
A four-course dinner with an unbeatable view! Our 2-top tables are set for intimacy & comfort; a private restaurant feel without the crowds aboard our spacious sailing catamaran. As you are escorted to your table, the evening begins with cocktails and sailing along Maui's scenic coast. After mooring in a protected cove, the first course is served. Our Crew are quick to accommodate your every need and will serve your remaining three courses including your chef-prepared entrée. This is no ordinary dinner! After the sun sets, enjoy starlight sailing and after-dinner drinks.
Register for Ma'alaea Captain Sunset Dinner Sail
Tour Date: Sunday, October 27, 2019
Rate: $158.00 per person (includes gratuity)
Haleakala Sunrise Bike n Zip
BREATHTAKING BEAUTY AND TWO THRILLING RIDES
Ascend the summit of Haleakalā for the most amazing sunrise view on Maui. Be there when Haleakalā awakens and the early sunlight reveals amazing views all around you.
After the sunrise, bike down the slopes of Haleakalā on a winding road with amazing ocean and valley views. Round out your morning with a fast-paced adventure on our award-winning Haleakalā zipline course. Don't miss out on this whole morning of fun.
Register for Haleakala Sunrise Bike n Zip
Tour Date: Monday, October 28, 2019
Rate: $225.00 per person (includes pick-up from hotel)
Haleakala 5 Zipline Line Adventure
ZIPLINE ON THE SLOPES OF HALEAKALA
Experience 5 amazing ziplines and an Indiana Jones style swinging bridge that will send you across massive canyons, above 90-foot drops, and through fragrant eucalyptus trees on the slopes of Haleakala. We're located just a few miles outside of Haleakala National Park. Skyline Haleakala was recognized by Fodor's Travel as one of the world's most amazing zipline courses!
Register for Haleakala 5 Zipline Line Adventure
Tour Dates: Sunday, October 27, 2019 and Thursday, October 31, 2019
Rate: $120.00 per person (Transfers on own)